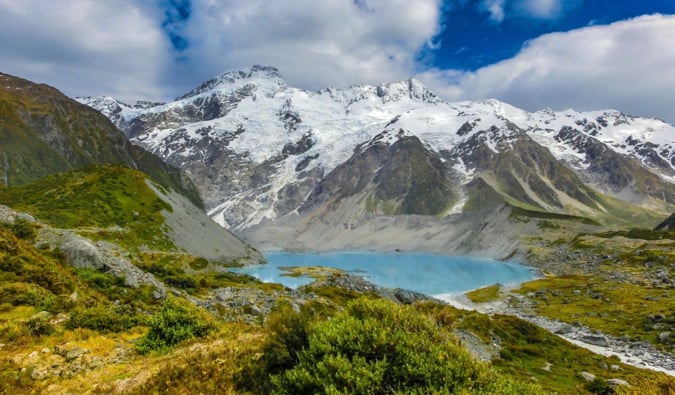 New Zealand. The land of Middle Earth, Great Walks, kiwis, backpackers, adventure sports, delicious wine and pristine wine regions.
And a land that sucks all your money from your wallet like a giant vacuum.
I first visited New Zealand eight years ago. The country was so much more expensive than I thought it would be. Back then, I was a cheap(er) backpacker and focused on saving as much money as I could. I cooked most of my meals, hitchhiked, skipped all the costly adventure sports, and drank a diet of cheap boxed wine and happy hour beer.
But, when I visited earlier this year, I changed my MO this trip. I was going to say yes to everything, regardless of cost.
I wanted to really know how much money you need in New Zealand for a variety of budgets. What's it cost to be a broke backpacker? A mid-range traveler? Or a mix of the two? What if you want to eat out a lot but also hike or sleep in a van? What if you want to do all the adventure activities in the world? What if you just let the tab pile up?
So I became the Nomadic Matt of many budgeting hats. And, in the process I learned a lot about, the true cost of traveling New Zealand.
Let's break it down.
How much did I spend in New Zealand?

Over the course of my 25-day visit, I spent $4,550.90 NZD ($3,292.74 USD), averaging $182 NZD ($131.68 USD) per day.
That's a lot of money. Like holy hell a lot of money! Way more than my $50 USD a day guideline.
Here's how my spending broke down:
Accommodations: $913.64 NZD ($661.05 USD)
Spark phone service: $164.68 (119.15)
Pharmacy: $39.98 (28.93)
Internet: $15.29 (11.06)
Groceries: $235.52 (170.41)
Transportation: $1,014.32 (733.90)
Activities: $823.65 (595.94)
Restaurants: 1343.82 (972.30)
Total: $4550.90 NZD ($3,292.74 USD)
I spent a lot of money, but, again, I said yes to everything. I knew taking scenic planes, trains, and helicopter rides; staying in private rooms, and meals out was going to cost a lot of money.
But even I was surprised how much I spent when I wasn't tracking my spending.
Looking back, there were things I could have done to lower my costs.
I could have saved money by eating out less or by booking less expensive Airbnbs instead of hostel private rooms (which are always a terrible deal but I wanted to be around other travelers).
With a lot of ground to cover, I couldn't always spend a day on a bus so flying really increased my costs. Additionally, the scenic rail I took (while awesome) was also $159 NZD!